Lisbon Public Library is a public service organization and learning environment that possesses a huge collection of books, documents, and other materials from various countries, cultures, and time periods.
The history of Lisbon's library began only four years after the founding of the city itself in 1884 when A. A. Gates, a wealthy, eccentric of Minneapolis donated a quarter section of land for the city library.
In 1911 the Lisbon Women's Club collected books and started a library in an upstairs room on the corner of Main Street and Fifth Avenue.
A building fund was started in 1927 and the library was then relocated. In 1940 a fire destroyed that building.
The land on which the present library stands, located two blocks west of the Highway 32 and 27 intersection, was purchased in 1920. The library was built as a Work Projects Administration (WPA) project in 1942. It is a split-level brick building which houses the library on the upper level, and the city council chambers and a local organization on the lower level. Lumber and material from the school house that stood a block west of the current library was used in its construction.
The shape is unique. From above, it resembles an airplane with wings slanted back from the nose. The total cost of the library building in 1942 was $24,595.50
The library was renovated in 2003. An elevator, handicapped ramp, new windows, new roof, and new heating system brought the building up to fire and building code.
May the institution contribute to the education of Americans in truth, tolerance, and constructive effort; that it will help to build anew in greater measure strength of character and mentality which is now being drawn upon to preserve the nation.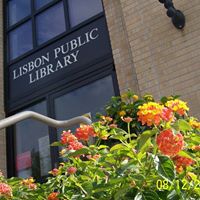 Fill out the form below with any questions you may have or to reach out to the library: